William Butler Yeats, « Under bare Ben Bulben's head… »
(mardi, 13 juin 2023)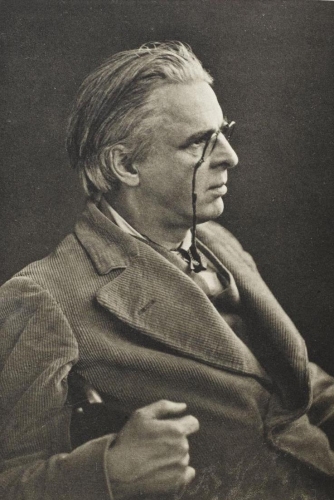 « Under bare Ben Bulben's head
In Drumcliff churchyard Yeats is laid.
An ancestor was rector there
Long years ago, a church stands near,
By the road an ancient cross.
No marble, no conventional phrase ;
On limestone quarried near the spot
By his command these words are cut :
Cast a cold eye
On life, on death.
Horseman, pass by !
September 4, 1938
Au pied de Ben Bulben à la tête nue,
Dans le cimetière de Drumcliff,
Yeats est couché. Un ancêtre y fut recteur,
Il y a bien des années. L'église est proche.
Sur la route, une ancienne croix.
Nul marbre, nuls mots convenus ;
On a taillé tout près d'ici un bloc de calcaire
Et selon son ordre, on a gravé dessus ces mots :
Regarde sans t'attendrir
La vie, la mort.
Cavalier, poursuit ta route ! »
William Butler Yeats
Sixième et dernier mouvement de « Au pied de Ben Bulden »
Derniers poèmes
Traduit de l'anglais et présenté par Jean-Yves Masson
Verdier, 1994
William Butler Yeats est né le 13 juin 1865.
17:21 | Lien permanent | Tags : william butler yeats, jean-yves masson, au pied de ben bulden, derniers poèmes, verdier